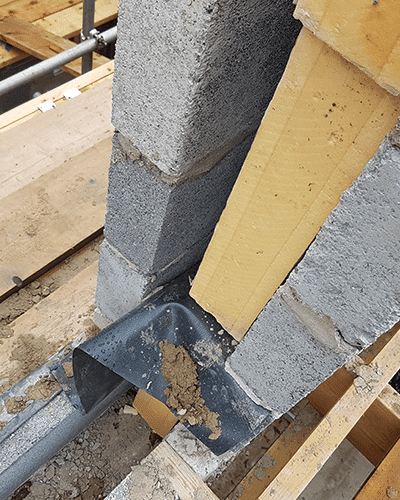 What is a damp proof course and why is it needed?
A damp proof course (DPC) is one of the solutions installed to prevent water damage to a household or commercial property. It is a barrier inserted at a low level in a wall of a building to stop the rise of moisture from the ground via capillary action.
Whether you have an old property or a new build, the effects of water can have a devastating impact.
In a country like Britain, where we average 113 days of precipitation totalling 885mm, we must prepare our properties to stave off the impact of damp.
A damp-proof course can be in many forms depending on the age and construction of the building. They are generally inserted at a low level at the time of construction.
Building regulations stipulate that a minimum distance of 150mm should be maintained between the ground and the damp-proof course to alleviate any bridging or rainwater splashing over it. Keeping this recommended clearance helps in allowing evaporation of dampness at the wall base.
Types of Damp Proof Course (DPC)
This material was a "Roofing" tile laid within the mortar from around 1875 to the early 1900s. Sometimes it was just one slate; other times, it was two slates. This material, when in place, is effective and creates a solid barrier; however, due to its brittle nature, it is known with movement to crack.
"Brick" DPC – The "Blue" brick
This is the use of an "Engineering" brick which is blue/black in colour. This type of brick has a compressive strength greater than 125n/mm2 and water absorption below 4.5%, a tough, dry brick!
It is easy to spot these examples as the building has a familiar red brick finish and this band of blue bricks. Sometimes the lower part of the wall is built entirely of these engineering bricks, then switching to the standard red brick. Moisture can move through the mortar cement in between the bricks over time.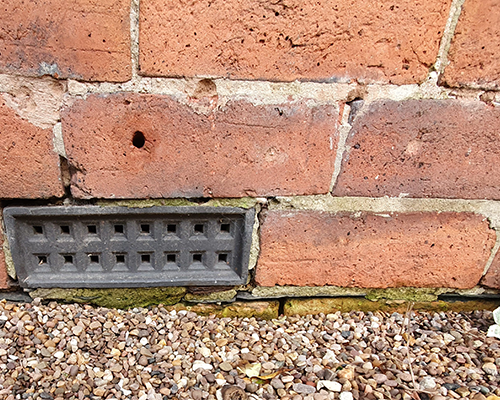 "Lead" DPC – Not common on general domestic buildings
Lead is still commonly used by the roofing trades to create valleys and flashings. It is robust and an excellent barrier for stopping moisture bypassing. Primarily used in historic buildings, it is an expensive material and not often found in ordinary domestic dwellings.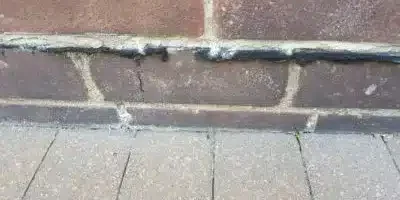 "Felt" DPC - Otherwise known as Bitumen – the 1920s - approx. 1950's
Felt was used for about 30-60 years, and this type of DPC would become brittle and break down, occasionally causing defects and moisture bypassing.
This material was thicker than the plastic and, to a trained eye, had a very different look from the newer plastic method.
Modern DPC – "Roll of Thick Plastic" – From the 1970s
The modern way to stop Rising damp in a property is to insert "plastic" between the horizontal brickwork. Plastic is a very thick and heavy-duty material, especially for this purpose. It comes in rolls and is often positioned within the mortar and another brick placed above it.
On occasions, it is visible, and sometimes it is within the brick. A surveyor would need to look very closely to identify it.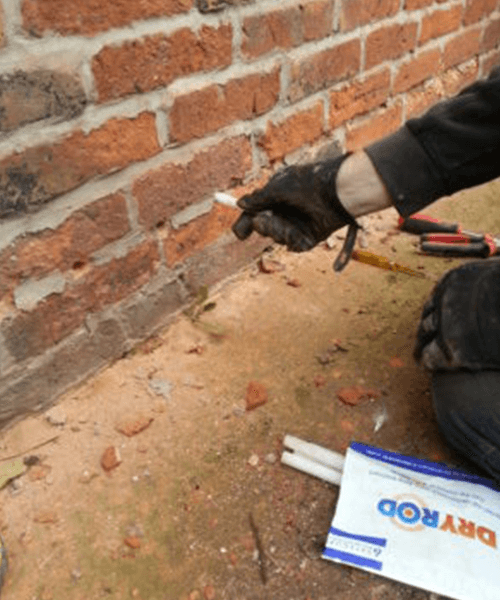 "Electro-Osmosis" Damp stopped by an Electric currency
This system works by introducing a small electrical charge in the wall of the building above the ground. The system requires cabling to be plugged into the wall like a home device and must have constant electricity to ensure damp does not rise.
We have seen this used in thick stone walls or properties with a non-typical construct.
"Chemical" DPC – Cream injections
A chemical damp proof course is a more modern treatment used by many companies when a DPC has failed. However, it should only be installed if it is required!
We have seen DPCs injected at head height, above windows, and in properties with leaking gutters causing issues. It is not the "go-to" treatment for damp; it should only be inserted if identified as required by a surveyor; it is not a magic wand!
With this system, silicone‐based cream/rod is injected or inserted into holes drilled at regular intervals along a mortar. Once in place, the product diffuses along the mortar course before curing to form a water‐repellent resin.
"Dutch" Damp Proofing system
Look at this article written by the hugely knowledgeable and respected Graham Coleman. There is a feeling this approach is quite controversial but read this and make your mind up.
Chemical Damp Proof Courses rarely fail
Clients often inform us that we need to "inject a DPC". When we ask them 'why'? They've been told by a friend, builder, and even sometimes by a "damp specialist" that this will solve their damp issue.
This is NOT always the case! In many situations, there are other reasons why they have a damp problem.
Therefore, the surveyor must identify the correct "source" of moisture. On many occasions, it is not rising damp but other issues. It could be high ground levels; this is where soil on the outside wall is against the wall, causing moisture to bypass the structure. If this is taking place above the damp proof course, this is also referred to as "bridging".
Other sources of moisture, such as defective rainwater goods or crumbling pointing, can mean penetrating damp causes the internal décor to fail.
We refuse to insert DPC's on-demand!
We have often refused a property owner, developer, or builder to insert a "DPC" as it is not a suitable treatment for the issue. However, the demand is generally driven by the need for a "damp guarantee" so they can sell a house quickly.
Sadly, we've had clients whose "damp specialist" advised they needed to "damp proof" a whole room costing thousands of pounds. However, upon inspection, some essential maintenance is clear, and proper ventilation internally would resolve the issue for just a few hundred pounds.
In short, a Chemical Damp Proof Course is inserted when the building is first constructed and generally remains intact and stops moisture from rising. Therefore, the need for a second injection is limited.
The most critical action is always to identify the moisture source and rectify the defect.
A damp-proof course can work well with other internal and external remedial works to help give you a dry, decorative interior finish.
Our team of experts* are well-qualified, experienced professionals who will go the extra mile to ensure your damp problems are solved, and your house or workplace is returned to normal.
We will take off and re-connect your radiators and remove and replace covings, skirtings and electrical sockets.
We will leave your rooms ready to decorate. You will not need to bring in a plumber, carpenter or electrician to finish after us.
Damp Proofing Case Studies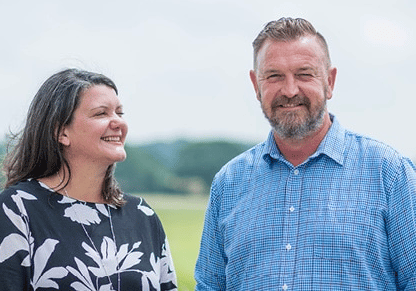 Need help? Book a survey at a time to suit your schedule
Our mission is to give you the peace of mind you deserve when it comes to waterproofing your house or business. Commission a survey from our team to assess your situation professionally.